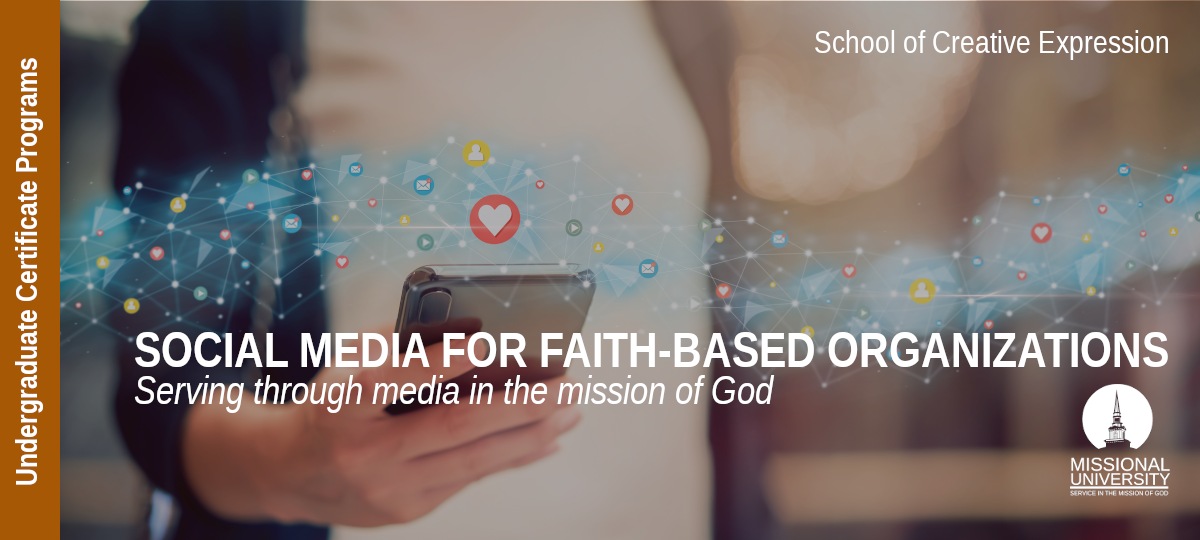 Online Undergraduate Certificate in
Social Media for Faith-based Organizations

♰  Similar to Other Universities, But with a Unique Set of Courses
Expand Your Missional Service Today!
REQUEST INFORMATION
Ready to learn more about the
Undergraduate Certificate in
Social Media for Faith-based Organizations?
The Undergraduate Certificate in Social Media for Faith-based Organizations prepares students to outline and design dynamic content marketing strategies, build organizational identity ("brands"), engage constituents, and generate community relationships. The program encourages missional motivation in both Christian and non-Christian work environments.
Online connectivity is tied to the emergence of communications through social media. Social media continues to impact the modern world and the ways in which ministries, mission agencies, churches, church groups and schools as well as business entities communicate. Missional professionals skilled in social media communications are needed to boost online interaction and marketing strategies.
Program Features
Integrated practicums allow you to gain valuable real-world experience

Learn from academic practitioners from around the world

Credits earned in this certificate program can apply to a Missional University Bachelor degree program
What Will I Study?
We offer the most comprehensive approach to serving through media in the mission of God.
How has God spoken in word, deed, and through a variety of "media," including nature, natural objects, and word pictures? The student will examine Scriptural and historical examples, various theories of communication, and practical missional concerns to develop a theology for telling the Good News in a variety of media.
This course investigates how narrative can be effectively applied in a range of contexts and across multiple media platforms to achieve specific goals. Students explore the opportunities of storytelling with regard to audience engagement, branding and successful marketing, and apply their learning to demonstrate proficiency in developing their own stories.
This course is designed to introduce students to the online opportunities for gospel witness and effective relationship building. Special attention will be given to the exploration of existing online communities and tools that will help students not only enhance those communities, but also the ability to create and develop their own online community that helps strengthen the missional bond amongst the members of that community.
Optional Additional Courses
This course examines conceptual issues regarding computer-mediated and mobile communication in local and global contexts. We will look at emerging forms of new media, such as the Internet, mobile media, social media, as well as video games, and theorize about their development.
This course will explore the complex relationship between the media and society and learn how the media communicate, persuade, and construct meaning across cultures. This course recognizes that people gain information about other cultures and people groups through mass media, so it seeks to enable students to access, analyze, evaluate, and create media in various cultural contexts.
This course will examine different approaches to global media and cultures. It will highlight the limitations of a Eurocentric approach by examining the dynamics of structural forces and human agency reflected in global media. It will also discuss the relationship between globalization and Christianity.
This course will analyze how mobile devices are changing interpersonal communication. The course focuses on the cultural transformations that are accompanying the rise of mobile media, location-aware technologies, and pervasive computing culture. Students will also explore the implications of these theories through hands-on practice with various mobile media.
This course explores cultural notions about gender roles and representation in American and global media from a historical and critical perspective. It considers masculinity as well as femininity and how multiple identity factors (class, race, ethnicity, age, appearance, sexuality, and nationality) further complicate gender imagery and expectations.
When Can I Get Started?
We offer multiple start dates each year to give you flexibility in your education, life and work schedules.
A Career in Communicating Creatively
Is this Your Mission?

Social Media Manager, Director of Social Media, Brand Manager, Engagement Coordinator, Community Manager, Content Manager, Content Strategist, Digital Communications Professional, Digital Content Manager, Digital Media Manager, Digital Media Producer, Digital Media Supervisor, Director of Community, Director of Communications Planning, Director of Online Communications, Director of Social Marketing and Brand Communications, Director of Social Media Marketing, Director of Social Media Communications, Director of Social Media Relations, Director of Social Media Strategy, Engagement Coordinator, Engagement Manager, Interactive Media Associate, Interactive Media Coordinator, Interactive Media Manager, Internet Marketing Coordinator, Internet Marketing Manager, Manager of Digital and Social Media, Manager of Social Media, Media planner, Multi-Media Communications Specialist, Online Content Coordinator, Social Media Account Executive, Social Media Analyst, Social Media Assistant, Social Media Associate, Social Media Coordinator, Social Media Designer, Social Media Editor, Social Media Executive, Social Media Marketing Coordinator, Social Media Producer, Social Media Specialist, Social Media Strategist
How Much Will it Cost?
We offer tuition based upon country of residence.  According to the Human Development Index, all countries around the world fall into one of four categories:
(Tier 1) - Very High Human Development

(Tier 2) High Human Development

(Tier 3) Medium Human Development

(Tier 4) Low Human Development
Our tiered global tuition makes higher education affordable for everyone world wide.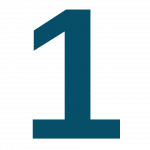 TIER COUNTRIES
100% Tuition
$295
per credit hour
3 credit course
$885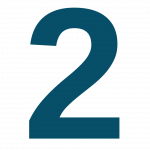 TIER COUNTRIES
80% Tuition
$236
per credit hour
3 credit course
$708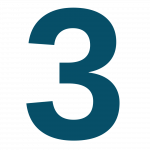 TIER COUNTRIES
60% Tuition
$177
per credit hour
3 credit course
$531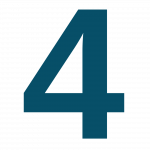 TIER COUNTRIES
40% Tuition
$118
per credit hour
3 credit course
$354