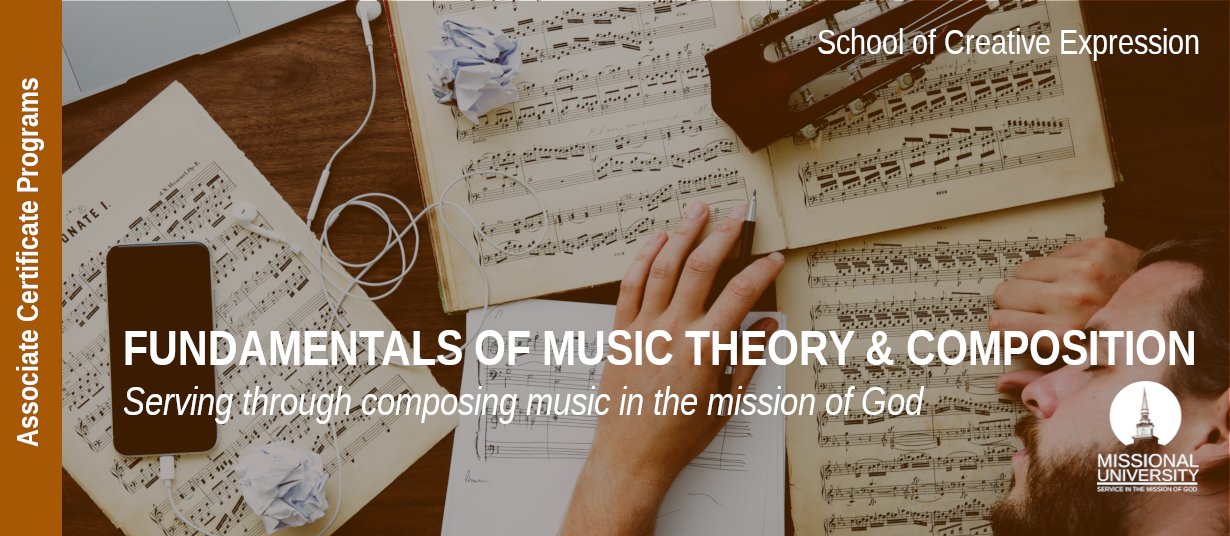 Online Associate Certificate in
Fundamentals of Music Theory & Composition
♰  Similar to Other Universities, But with a Unique Set of Courses
Expand Your Missional Service Today!
REQUEST INFORMATION
Ready to learn more about the
Associate Certificate in
Fundamentals of Music Theory & Composition?
The Associate Certificate in Fundamentals of Music Theory & Composition introduces students to the fundamentals of music theory and practice, with a view to music composition. Students engage their development of music theory, practice, and composition in the context of a broader partnership with God's mission in the world.
Program Features
Integrated practicums allow you to gain valuable real-world experience

Learn from academic practitioners from around the world

Credits earned in this certificate program can apply to a Missional University Associate degree program
What Will I Study?
We offer the most comprehensive approach to serving through composing music in the mission of God.
A survey of Missio Dei, the Mission of God, explores Salvation History through the redemptive vision of God. The student will learn how God is reconciling all of creation unto himself in the person and work of Jesus Christ. Students will also observe God at work through His people in mission.
This course explores the spiritual dimension of missional engagement in the post-Christendom world. Students will discover practical and creative ways of deepening their personal spirituality allowing more engagement with not-yet Christians and the development of authentic missional community. Resources will include readings, video interviews with practitioners, creative spiritual practices, real-life experimentation and weekly Q & A reports.
A foundational study designed to help improve the sight singing and ear training skills by developing their awareness of melodic, harmonic, rhythmic dictation skills. The course acquaints students with the syntax of musical structure and allow them to interpret music with both the ear and the eye. This course focuses on music rudiments, voice leading, harmony and melodic forms of music.
This course is a comprehensive overview of the foundational principles of music theory which includes notes, intervals, rhythms, chord construction, harmonic progressions and basic arranging. The course prepares students for courses in music composition and Music Theory II. This is an interactive course that helps to develop and reinforce the student's music theory knowledge. Students also learn foundational principles to help them function as a skilled musician by exploring, arranging and analyzing traditional, classical and popular music.
This course builds on Music Theory I by expanding the student's understanding of harmony and voice-leading chords. We will explore both diatonic and chromatic chord progressions. The course prepares students for courses in music composition and other advanced music classes. This is an interactive course that helps to develop and reinforce the student's music theory knowledge. Students will learn how to analyze and compose music that goes beyond structural harmony and into creative music.
An introductory approach to composition and arranging techniques which explore competency in notation software such as SmartScore, Finale, Garageband. This course also explores the use of sequencing, loops in live or recording applications and integrating midi and digital audio to capture the student's daily inspiration.
When Can I Get Started?
We offer multiple start dates each year to give you flexibility in your education, life and work schedules.
A Career in Communicating Creatively
Is this Your Mission?

Artistic Administrator, Audio Engineer & Composer, Audio Mixer, Campus Music Director, Choir Director, Choral Conductor, Church Music Director, Composer, Composer/Sound Designer, Conductor, Contemporary Music Director, Director of Music Affairs, Director of Music Development and Outreach, Director of Music Ministries, Film Composer, Game Sound & Composer, Instrumental Music Director, Lead Sound Designer, Lyricist, Music & Liturgy Director, Music Arranger, Music Clerk, Music Composer, Music Coordinator, Music Copyist, Music Director, Music Editor, Music Instructor, Music Lead, Music Missionary, Music Producer, Music Program Coordinator, Music Reviewer, Musical Theater Composer and Lyricist, Music Performance Manager, Music Production Teacher, Music Researcher, Music Theory Teacher, Repertory Representative, Resident Music Director, Sanctuary Music Director, Singer, Songwriter, Sound Designer, Sound Technologist, Virtual Game Trailer Music Composer, Worship Leader.
Merge Your Faith, Career & Mission in Service in the Mission of God in the World
Serve in faith-based organizations including mission entities, nonprofits & NGOs, schools, churches and church groups worldwide.
How Much Will it Cost?
We offer tuition based upon country of residence.  According to the Human Development Index, all countries around the world fall into one of four categories:
(Tier 1) - Very High Human Development

(Tier 2) High Human Development

(Tier 3) Medium Human Development

(Tier 4) Low Human Development
Our tiered global tuition makes higher education affordable for everyone world wide.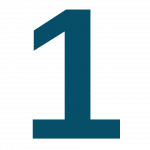 TIER COUNTRIES
100% Tuition
$295
per credit hour
3 credit course
$885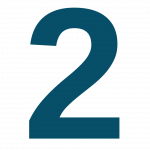 TIER COUNTRIES
80% Tuition
$236
per credit hour
3 credit course
$708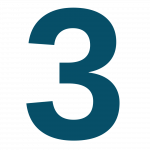 TIER COUNTRIES
60% Tuition
$177
per credit hour
3 credit course
$531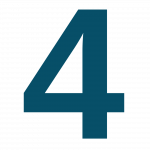 TIER COUNTRIES
40% Tuition
$118
per credit hour
3 credit course
$354