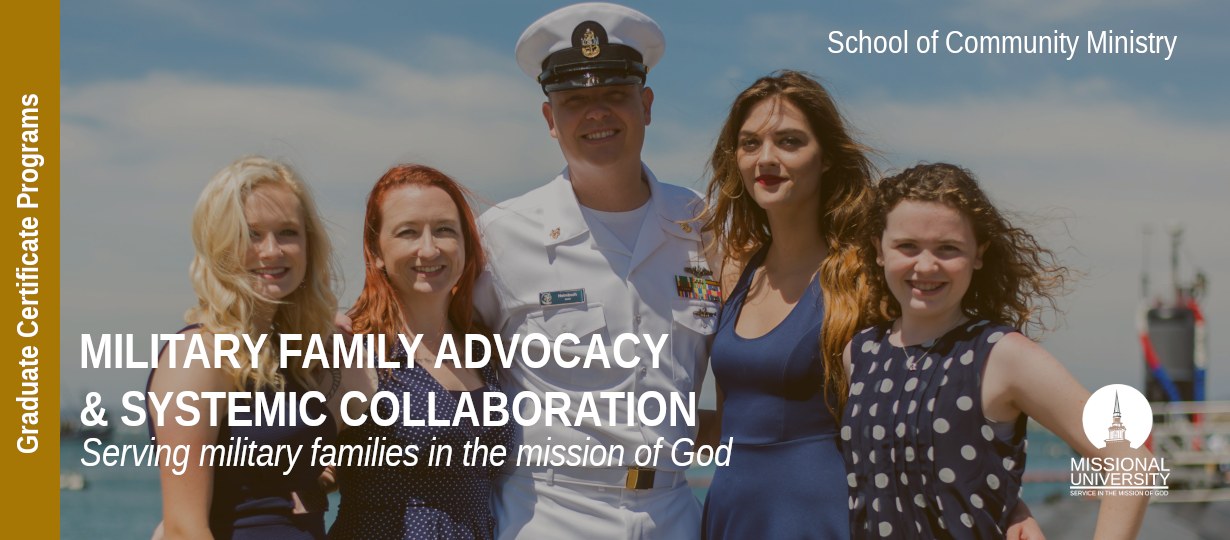 Online Graduate Certificate in
Military Family Advocacy & Systemic Collaboration

⚜   Rarely Offered in Christian Universities, Bible Colleges or Seminaries
Expand Your Missional Service Today!
REQUEST INFORMATION
Ready to learn more about the
Graduate Certificate in
Military Family Advocacy & Systemic Collaboration?
This 18-credit Graduate Certificate in Military Family Advocacy & Systemic Collaboration provides knowledge and skills that can be immediately applied by community ministry leaders, chaplains, pastors, community health educators, human services professionals, social workers, and others who work with veteran and military families. This credential empowers you to serve your community, broaden your skillset and enhance your resume. Taught by Christian experts in public theology, military chaplaincy, and healthcare chaplaincy, the program equips students to demonstrate the love and compassion of God by advocating for military families; caring for the holistic health of veteran & military families; collaborating with others in meeting military family needs; and demonstrating and sharing the good news of redemption, restoration, and renewal.
According to the International Institute for Strategic Studies in their 2019 report, more than 14.5 million people serve in the militaries of the top 30 countries with the largest military forces - of that about 1.3 million are active duty in the US military. With over 18 million veterans, the United States has about 20 million veterans and active military - and their families - to serve. Due to the circumstances that active and veteran military and their families have experienced, whether deployed or not, their needs may involve many different physical, psychological, social and spiritual issues. Through the Graduate Certificate in Military Family Advocacy & Systemic Collaboration, you gain an understanding of not only how the veterans and active military deal with the consequences of war and military service, but also how to best help these families by expanding the capacity of caregiving through partnerships.
Program Features
Integrated practicums allow you to gain valuable real-world experience

Learn from academic practitioners from around the world

Credits earned in this certificate program can apply to a Missional University Master's degree program
What Will I Study?
We offer the most comprehensive approach to serving military families in the mission of God.
Students develop a theological framework with which to engage those who experience pain and hardship. The course addresses the importance of holistic mission through caring for the pastoral, spiritual, medical, and health-related needs of those experiencing illnesses, disabilities, cancer, etc. Assessment items include reading, lectures, case-study projects, discussion forums, and service projects pointed to a global area of interest.
How is military life and culture changing? What are driving these changes? Students will explore readings from different time periods and perspectives, evaluate these trends, and propose how they may impact missional activities.
Many returning military members and veterans face cultural, psychological, spiritual, and ethical challenges adjusting back from deployments or to civilian life. Students are expected to assess and articulate problems faced by service personnel and veterans, obstacles and barriors to receiving care, and a description and evaluation of current care systems.
Students will assess and compare the differences between military and veteran disability evaluations, research and articulate problems and benefits of these systems, and formulate proposed systematic changes.
Current trends in programs and structures in military psychological healthcare which address common pyschological stressors will be analyzed. Students will identity and evaluate historical practices, popular support for these programs, pressure to transform these trends, and impications of modern trends for military members.
How does one apply the calling of spiritual caregiving to the unique world of healthcare? This course equips spiritual caregivers to apply their spiritual gifts towards the specific context of healthcare. Under examination are the challenges of ministering in a multi-faith context, developing one's personal identity as a caregiver, and functioning in an interdisciplinary context with other healthcare professionals. Students will have opportunity to apply their learning to the specific area of healthcare to which they are called.
When Can I Get Started?
We offer multiple start dates each year to give you flexibility in your education, life and work schedules.
A Career in Transforming Communities
Is this Your Mission?

Community Ministry Specialist, Community Ministry Director, Domestic Violence Victim Advocate, Director of Veteran & Military Affairs, Director of Veteran Transition Services, Family Advocacy Program Clinical Counselor, Family Advocacy Program Victim Advocate, Family Advocacy Social Worker, Family Advocacy Treatment Manager, Family Engagement Manager, Family Intervention Specialist, Military Chaplain, Military Family Advocate, Military Family Life Supervisor, Military Family Service Care Coordinator, Military Family Social Worker, Military Support Specialist, Military Veteran Coordinator, Military Victim Advocate, Survivor Outreach Services Coordinator, Veteran Family Advocate, Veterans Service Officer, Veterans Service Representative
How Much Will it Cost?
We offer tuition based upon country of residence.  According to the Human Development Index, all countries around the world fall into one of four categories:
(Tier 1) - Very High Human Development

(Tier 2) High Human Development

(Tier 3) Medium Human Development

(Tier 4) Low Human Development
Our tiered global tuition makes higher education affordable for everyone world wide.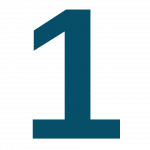 TIER COUNTRIES
100% Tuition
$395
per credit hour
3 credit course
$1185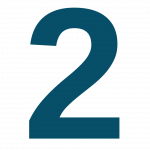 TIER COUNTRIES
80% Tuition
$316
per credit hour
3 credit course
$948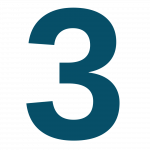 TIER COUNTRIES
60% Tuition
$237
per credit hour
3 credit course
$711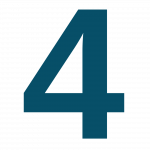 TIER COUNTRIES
40% Tuition
$158
per credit hour
3 credit course
$474