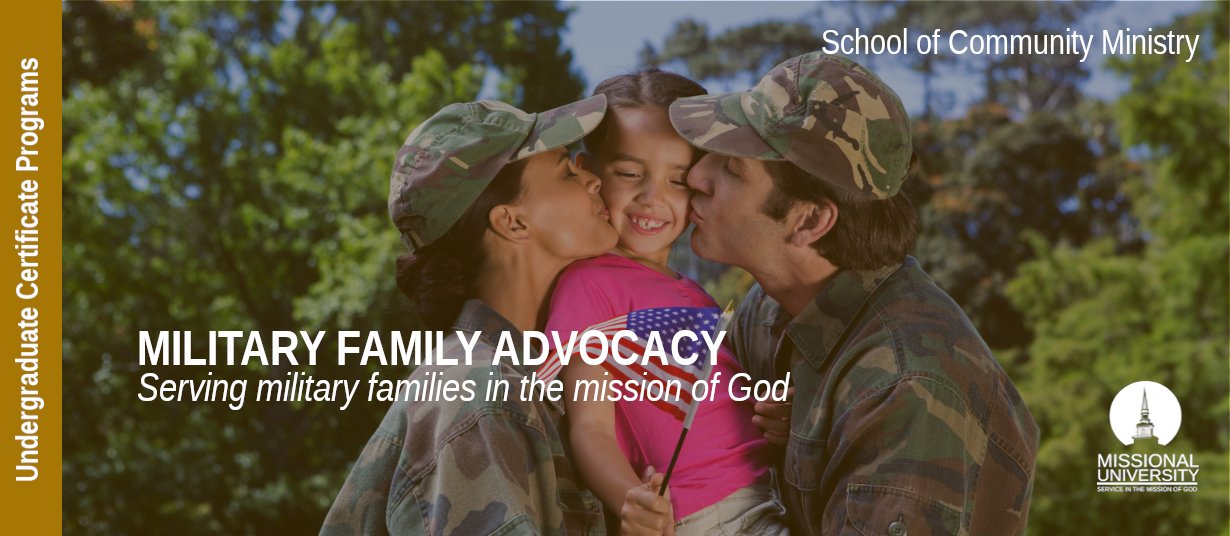 Online Undergraduate Certificate in
Military Family Advocacy

⚜   Rarely Offered in Christian Universities, Bible Colleges or Seminaries
Expand Your Missional Service Today!
REQUEST INFORMATION
Ready to learn more about the
Undergraduate Certificate in
Military Family Advocacy?
The Undergraduate Certificate in Military Family Advocacy equips students with the knowledge and skills to create a collaborative environment that enhances the delivery of support and needed resources to military famliies. Students examine military family resiliency and vunerabilities as part of a risk assessment process that leads to the prevention, identification, and holistic treatment of physical, psychological, social, and spiritual issues involving service members and their families. Students also learn to address the unique aspects of military life including frequent moves, deployments, and lengthy separations. Students examine the role of advocacy in supporting military families through leveraging community, governmental, and private resources. Students learn how to locate local, regional, and national assets and expand caregiving capacity through building collaborative relationships in order to better serve the military community.
According to the International Institute for Strategic Studies in their 2019 report, more than 14.5 million people serve in the militaries of the top 30 countries with the largest military forces - of that about 1.3 million are active duty in the US military. With over 18 million veterans, the United States has about 20 million veterans and active military - and their families - to serve. Due to the circumstances that active and veteran military and their families have experienced, whether deployed or not, their needs may involve many different physical, psychological, social and spiritual issues. Through the Undergraduate Certificate in Military Family Advocacy, you gain an understanding of not only how the veterans and active military deal with the consequences of war and military service, but also how to best help these families by expanding the capacity of caregiving through partnerships.
Program Features
Integrated practicums allow you to gain valuable real-world experience

Learn from academic practitioners from around the world

Credits earned in this certificate program can apply to a Missional University Bachelor degree program
What Will I Study?
We offer the most comprehensive approach to serving military families in the mission of God.
Examines the origin and nature of communities from a Christian theological perspective. Students will learn about God's purpose for society in his created order and about the place of humanity in it. Group discussions, book reviews, research papers, quizzes, and other assignments will help the student understand the theology of community portrayed in Scripture and traditions.
This course will examine resiliency and vulnerabilities in stressors frequently associated with many service members and veterans. What is it like to be separated from one's family, to go to war, to kill an enemy combatant, witness trauma, or face moral injury? Where and how service members and veterans can receive care for these issues will be explored in the course.
Life in the military embraces a culture distinct from civilian life to the extent that it has a strong influence over veterans throughout their lifespan. To understand and work with military members, veterans, and their families, one must understand this culture and language. This course will examine the formative and pervasive military culture.
The role of the advocate supporting military families, including how to identify and relate to military families, develop support groups, and relate to their special needs will be explored.
Leveraging community, governmental, and private resources is a way to enhance military support for military families in an era of constrained resources. Students will learn how to build collaborative relationships with these resources to better understand them, how they work, and how military families can be assisted.
What resources are available to assist the military family advocate? In a time of constrained resources one individual or organization can't provide for every need military families may face. In this course students will be exposed to the major governmental and private organizations available to assist military advocates and will also explore how to locate and leverage local and regional assets.
Optional Additional Courses:
Participants will learn to research factual information, gain skill in writing persuasively, hone critical thinking skills (if this, then that), provide oral and written presentations, using a variety of formats and for multiple and various constituencies. Students must have either microsoft office or libre office programs, be fluent in chart, graph, table, as well as text and presentation formats.
Students will learn to apply program management for their organization's advocacy goals. Program planning and execution is the process by which the vision, mission, and overarching goals are aligned to achieve measurable outcomes in assisting military and veteran families. Also included in program planning include strategy, tactics, timeline, resources, and proper feedback.
Women have taken an active role in war as political leaders, supporters of the home front, in military support roles, and more recently as direct combatants. Women also have been victimized during war and displaced from their homes and families by aggressive military and domestic elements. This course will examine the changing role of women in the military and how women have been affected by aggression and war.
When Can I Get Started?
We offer multiple start dates each year to give you flexibility in your education, life and work schedules.
A Career in Transforming Communities
Is this Your Mission?

Community Ministry Specialist, Community Ministry Director, Domestic Violence Victim Advocate, Director of Veteran & Military Affairs, Director of Veteran Transition Services, Family Advocacy Program Clinical Counselor, Family Advocacy Program Victim Advocate, Family Advocacy Social Worker, Family Advocacy Treatment Manager, Family Engagement Manager, Family Intervention Specialist, Military Chaplain, Military Family Advocate, Military Family Life Supervisor, Military Family Service Care Coordinator, Military Family Social Worker, Military Support Specialist, Military Veteran Coordinator, Military Victim Advocate, Survivor Outreach Services Coordinator, Veteran Family Advocate, Veterans Service Officer, Veterans Service Representative
How Much Will it Cost?
We offer tuition based upon country of residence.  According to the Human Development Index, all countries around the world fall into one of four categories:
(Tier 1) - Very High Human Development

(Tier 2) High Human Development

(Tier 3) Medium Human Development

(Tier 4) Low Human Development
Our tiered global tuition makes higher education affordable for everyone world wide.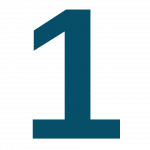 TIER COUNTRIES
100% Tuition
$295
per credit hour
3 credit course
$885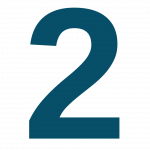 TIER COUNTRIES
80% Tuition
$236
per credit hour
3 credit course
$708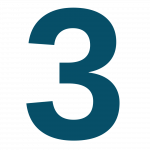 TIER COUNTRIES
60% Tuition
$177
per credit hour
3 credit course
$531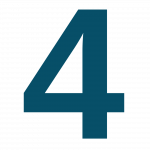 TIER COUNTRIES
40% Tuition
$118
per credit hour
3 credit course
$354