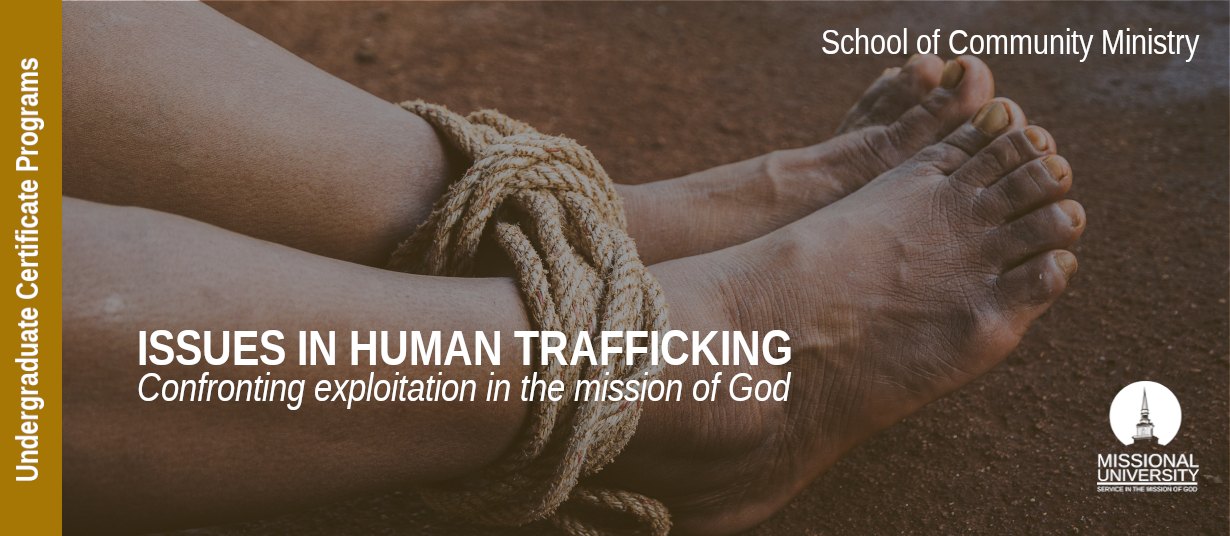 Online Undergraduate Certificate in
Issues in Human Trafficking

⚜   Rarely Offered in Christian Universities, Bible Colleges or Seminaries
Expand Your Missional Service Today!
REQUEST INFORMATION
Ready to learn more about the
Undergraduate Certificate in
Issues in Human Trafficking?
The Undergraduate Certificate in Issues in Human Trafficking empowers students with the knowledge and skills to become a leader in anti-trafficking efforts by studying best practice models of prevention, protection, prosecution, and partnership from a Biblical and missional perspective. Taught by Christian experts in public theology, migration studies, criminal investigation and law enforcement, the program equips students to demonstrate the love of God and the righteousness of God by advocating for justice, caring for those who are hurting, and sharing the good news of redemption, restoration, and renewal.
Human trafficking is a form of slavery. According to the US State Department's 2019 Trafficking in Persons Report, a staggering 24.9 million people world wide have lost their freedom and human dignity through human trafficking. Furthermore, the US State Department estimates that 14,500 to 17,500 people are trafficked into the US each year from other countries. However, hundreds of thousands more are subject to American inter-state trafficking. In the United States, victims of trafficking are almost exclusively immigrants, and mostly immigrant women. The average age of trafficking victims in the U.S. is 20. According to Forbes, human trafficking is a pandemic of the 21st century. "Human trafficking is a crime in itself but it is rarely the end goal for the perpetrators. Once the act of human trafficking is complete, it normally leads to further crimes like enslavement, sexual violence and physical violence, among other forms of abuse." Missional leaders are needed in Christian mission entities, nonprofits & NGOs, schools, churches and church groups across the globe to combat this global pandemic.
Program Features
Integrated practicums allow you to gain valuable real-world experience

Learn from academic practitioners from around the world

Credits earned in this certificate program can apply to a Missional University Bachelor degree program
What Will I Study?
We offer the most comprehensive approach to confronting exploitation in the mission of God.
When Can I Get Started?
We offer multiple start dates each year to give you flexibility in your education, life and work schedules.
A Career in Transforming Communities
Is this Your Mission?

Anti-Human Trafficking Case Manager, Anti-Trafficking & Outreach Officer, Anti-Human Trafficking Outreach Specialist, Anti-Human Trafficking Shelter Program Director, Anti-Human Trafficking Program Director, Anti-Trafficking Advocate, Anti-Trafficking Specialist, Community Advocate, Director of Survivor Services, Health Specialist in Prostitution and Human Trafficking Intervention, Human Trafficking Advocate, Human Trafficking and Forced Labor Policy Administrator, Human Trafficking Case Manager, Human Trafficking Coordinator, Human Trafficking Outreach Coordinator, Human Trafficking Prevention Officer, Human Trafficking Program Coordinator, Human Trafficking Program Manager, Human Trafficking Services Coordinator, Human Trafficking Specialist, Human Trafficking Survivor Coordinator, Human Trafficking Trainer, Human Trafficking Victims Advocate, Legal Officer Counter-Trafficking Specialist, Police Affairs Officer / Adviser on Combating Trafficking in Human Beings, Program Coordinator for Combating Human Trafficking, Projects Officer-Modern Slavery & Human Trafficking, Research Officer-Focus on Labour Exploitation, Social Media Manager for Human Trafficking Initiative, Social Worker/Case Worker for Rape Crisis/Human Trafficking, Support Worker for Victims of Modern Slavery & Human Trafficking, Survivor Care Social Worker, Team Lead Anti-Human Trafficking, Trafficking Case Manager, Trafficking in Persons Advocate, Trafficking in Persons Lead Case Manager, Trafficking Intervention Coordinator, Trafficking Specialist, Youth Outreach Manager, Victim Advocate
How Much Will it Cost?
We offer tuition based upon country of residence.  According to the Human Development Index, all countries around the world fall into one of four categories:
(Tier 1) - Very High Human Development

(Tier 2) High Human Development

(Tier 3) Medium Human Development

(Tier 4) Low Human Development
Our tiered global tuition makes higher education affordable for everyone world wide.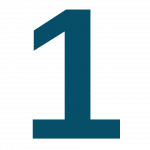 TIER COUNTRIES
100% Tuition
$295
per credit hour
3 credit course
$885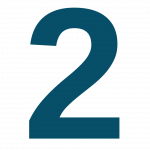 TIER COUNTRIES
80% Tuition
$236
per credit hour
3 credit course
$708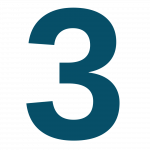 TIER COUNTRIES
60% Tuition
$177
per credit hour
3 credit course
$531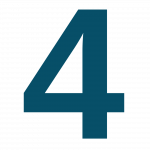 TIER COUNTRIES
40% Tuition
$118
per credit hour
3 credit course
$354