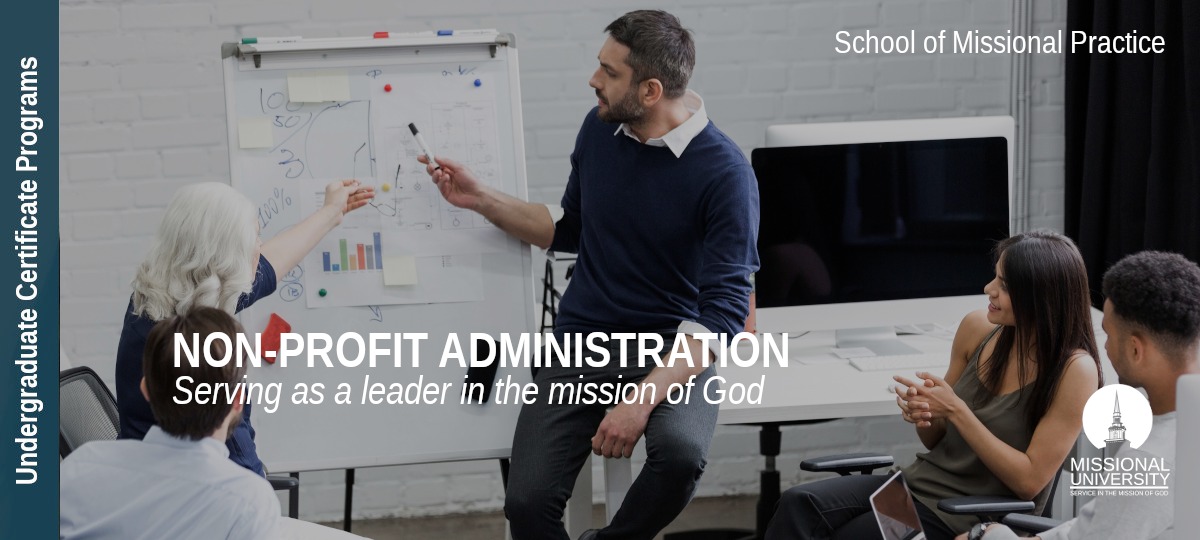 Online Undergraduate Certificate in
Non-Profit Administration
School: Missional Practice  // Study Area: Providing Missional Leadership
♰  Similar to Other Universities, But with a Unique Set of Courses
Expand Your Missional Leadership Capabilities Today!
REQUEST INFORMATION
Ready to learn more about the
Undergraduate Certificate in
Non-Profit Administration?
The Undergraduate Certificate in Non-Profit Administration
Program Features
Integrated practicums allow you to gain valuable real-world experience

Learn from academic practitioners from around the world

Credits earned in this certificate program can apply to a Missional University Bachelor degree program
What Will I Study?
We offer the most comprehensive approach to serving by participating in the mission of God.
A theological perspective on the meaning of work and the holistic integration of work, faith, and personal calling in a Christian's life. The student will explore ways and means of ethical living and working as participation in the reconciling mission of Christ.
Examination of essential principles and procedures for leaders in non-profit organizations, focusing primarily on faith-based organizations. Students will develop a Biblical framework of volunteerism and explore the basic skills, methods and tools for developing and maintaining an effective volunteer program.
While many nonprofit organizations may have a laudable purpose, not all organizations demonstrate efficiency in reducing operating costs. In this course, students will identify the ways in which a nonprofit organization can improve its visibility and contributions to the community while reducing administrative costs, thereby increasing the way it provides for its constituents. This course will touch on the value of grant writing and evaluation planning, as well as the importance of aligning the organization's operations with its mission statement.
In today's world, big data has transformed ways in which organizations drive their decision making. Nonprofits can improve their performance and increase positive change in the world by harnassing their data to drive their strategies, skills and guidance to make better decisions. The course enables students to identify challenges that data can address, develop data-driven strategies, and create an organizational culture that embraces the role data plays in decision-making processes.
When Can I Get Started?
We offer multiple start dates each year to give you flexibility in your education, life and work schedules.
A Career in Living Your Life as Mission
Is this Your Mission?

Administrative Program Coordinator, Administrator, Advocacy Director, Business Office Supervisor, Business Operations Manager, Chief Association Executive, Chief Executive Officer, Chief Operating Officer, Community Relations Director, Development Director, Development Manager, Director of Community Engagement, Director of Operations, Director of Projects, Director of Public Affairs, Director of Strategic Initiatives, Economic Opportunity Director, Executive Director, Operations Director, Operations Manager, Partnership Director, Program Director, Program Manager, Program Officer, Senior Director, Social Services Director, Special Events Administrator, Support Services Director, Systems Operations Manager, Volunteer Director, Volunteer Manager, Volunteer Services Director
How Much Will it Cost?
We offer tuition based upon country of residence.  According to the Human Development Index, all countries around the world fall into one of four categories:
(Tier 1) - Very High Human Development

(Tier 2) High Human Development

(Tier 3) Medium Human Development

(Tier 4) Low Human Development
Our tiered global tuition makes higher education affordable for everyone world wide.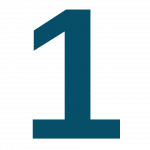 TIER COUNTRIES
100% Tuition
$295
per credit hour
3 credit course
$885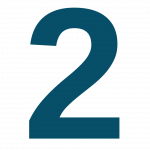 TIER COUNTRIES
80% Tuition
$236
per credit hour
3 credit course
$708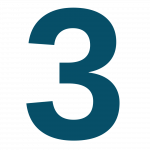 TIER COUNTRIES
60% Tuition
$177
per credit hour
3 credit course
$531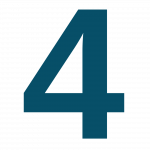 TIER COUNTRIES
40% Tuition
$118
per credit hour
3 credit course
$354