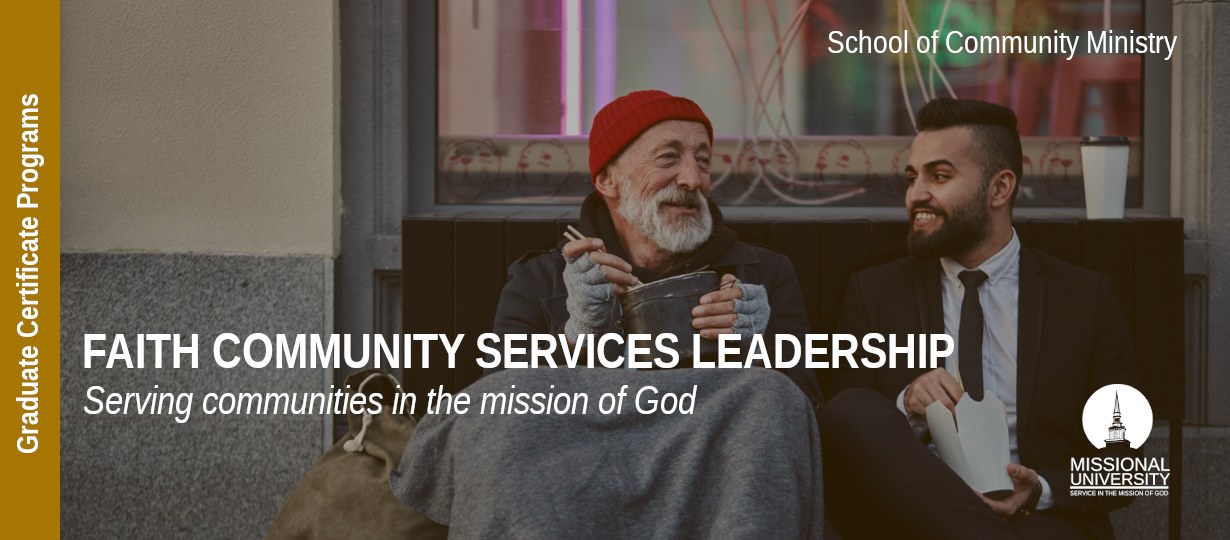 Online Graduate Certificate in
Faith Community Services Leadership

⚜   Rarely Offered in Christian Universities, Bible Colleges or Seminaries
Expand Your Missional Service Today!
REQUEST INFORMATION
Ready to learn more about the
Graduate Certificate in
Faith Community Services Leadership?
The Graduate Certificate in Faith Community Services Leadership offers community ministry practitioners, community development managers, community outreach coordinators, pastoral staff members, and other missional leaders with the following capabilities:
a theological understanding of community, society and social relationships
ability to develop ethical community development practices
effective strategic planning and operational control in community service organizations
a historical understanding of the development of faith-based community services and the social needs from which they arose
an operational understanding of congregational-based social ministry to neighborhoods locally and globally
the implications of the intersection between gospel-centered witness, the kingdom of God, and the mission of God for community services
the biblical foundations for compassion ministries, social justice and reform, and social change and transformation
a legal and ethical understanding of laws and ethical guidelines that apply to community ministries
the methods and skills needed to develop faith community services in diverse communities
Community Ministry can be defined as the activities carried out by missional Christians to join in God's work among individuals, families, and communities to bring about redemption, reconciliation, restoration and renewal through providing social services and taking social action in the community. It is rooted in the example of Jesus who combined "incarnational revelation" ["being the gospel"], "word revelation" ["saying the gospel"] and "deed revelation" ["doing the gospel"] together in his everyday life in the community. Community ministry embraces various holistic models to becoming active outside the four walls of the church building. The Graduate Certificate in Faith Community Services Leadership equips students to lead community ministries and social service organizations to holistically demonstrate the love of God through activities that serve the needs of individuals, families, and communities.
Program Features
Integrated practicums allow you to gain valuable real-world experience

Learn from academic practitioners from around the world

Credits earned in this certificate program can apply to a Missional University Master's degree program
What Will I Study?
We offer the most comprehensive approach to serving communities in the mission of God.
The role God intends for humanity in developing community and society as part of His created order will be explored. It will examine the theological doctrines of Creation, Fall, and Redemption, and the cultural mandate as the basis for humanity's involvement in community. Students will engage in analytical discussions, research, and presentations on the theology of Christian social engagement.
Explores and analyzes development practices and principles based on ethically sound reasoning. Emphasis on developing ethically sound real-world applications is a focus of the course.
This course is designed to provide a comprehensive overview of community service administration in our American system of government. The course will examine the foundations, organization, financing, staffing, and management of community service organizations. Emphasis will be placed on strategic planning and the control of operations.
A critique of historical faith-based approaches to community services among various historically vulnerable population groups such as the "dangerous classes," the "perishing classes," the working classes, and the immigrant population from an analysis of original source materials. Historical home missions conceived as moral influence, moral reform and social evangelism will be evaluated from theological and missiological perspectives. Students will write reflective papers integrating their historical, socio-theological and missional perspectives as they address ways in which historical approaches inform the application of Christianity to 21st century social issues.
The course will focus on the many ways social workers serve the church as leaders of congregational life, of ministry to neighborhoods locally and globally, and of advocacy for social justice. This course will provide a lens through which students can see congregational social work as a context of social work practice.
A critique of the rationale, nature and practice of holistic mission in relation to the mission of God. The course explores practical implications of the intersection of gospel-centered witness, the kingdom of God, and the mission of God. Students will evaluate evangelical formulations as expressed in the Lausanne Covenant, Wheaton Consultation, the Manila Manifesto, the Cape Town Commitment, and other resources that address the church in response to human needs. Students will create personal faith and contextualized action statements on a variety of issues including evangelism and social responsibility, reconciliation and redemption, poverty, inequality, social justice, holistic and integral mission, peoples at-risk, social change and transformation.
This graduate course focuses on having students creating a fictional community service plan and addressing all legal and ethical obligations that would apply. Students will draft an ethical code for the organization and create a business plan, and prepare a budget that could be presented to a fictional church congregation that would be sponsoring the community service.
This course focuses on development of effective communication skills as they relate to Faith Community Services relationships and professional practice. Learn to apply Biblical standards to practice especially in regard to diverse populations. Cultural sensitivity and professional self-awareness will also be components of the course.
Optional Additional Courses
A critique of approaches to Christian Sociology by early American sociologists in their quest for answers to the social upheavals of nineteenth and early twentieth-century urban society. Using primary and secondary sources, students will evaluate the ideas and influence of early Christian sociologists and social gospel proponents during the progressive era (1880-1920) of American history. Students reflect on their struggle to develop a Christian response to social issues, ways in which Christian sociology was defined, and the emergence of the academic discipline of sociology as a foundation for their own understanding of applied Christianity.
Students will assess the challenges of community development in the context of the current socio-economic realities, diverse demographics, gender, age, class, ethno-cultural, and disability. Students will grasp the historic and current approaches to community development and will be able to communicate these theories and concepts to an analysis of how communities work for social change and social justice.
This course evaluates the asset based planning approach to community initiatives using the strength perspective to developing sustainable communities. Students will devise 'next steps' for mobilization from their community asset maps and inventory assessment.
Analysis of the principles and procedures for leaders of volunteer programs in non-profit organizations. Students will develop a Biblical framework of volunteerism and will assess methods and tools used in contemporary, faith-based programs. Students will have an opportunity to apply course assignments to ministry fields of personal interest.
When Can I Get Started?
We offer multiple start dates each year to give you flexibility in your education, life and work schedules.
A Career in Transforming Communities
Is this Your Mission?

Christian Community Development Manager, Community Care Coordinator, Community Development Coordinator, Community Development Ministry Coordinator, Community Engagement Coordinator, Community Engagement Project Manager, Community Manager, Assistant Community Manager, Community Ministry Associate, Community Ministry Coordinator, Community Outreach Ministry Area Coordinator, Community Ministries Programme Coordinator, Community & Outreach Coordinator, Community Organizer, Community Pastor, Community Resource Director, Coordinator of Community Outreach, Development & Community Relations Director, Director Community Engagement, Lead Community Organizer, Ministry Coordinator for Community Life, Pastor of Community Evangelism
How Much Will it Cost?
We offer tuition based upon country of residence.  According to the Human Development Index, all countries around the world fall into one of four categories:
(Tier 1) - Very High Human Development

(Tier 2) High Human Development

(Tier 3) Medium Human Development

(Tier 4) Low Human Development
Our tiered global tuition makes higher education affordable for everyone world wide.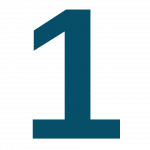 TIER COUNTRIES
100% Tuition
$395
per credit hour
3 credit course
$1185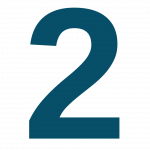 TIER COUNTRIES
80% Tuition
$316
per credit hour
3 credit course
$948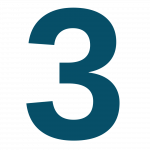 TIER COUNTRIES
60% Tuition
$237
per credit hour
3 credit course
$711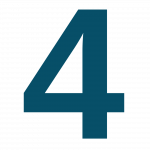 TIER COUNTRIES
40% Tuition
$158
per credit hour
3 credit course
$474