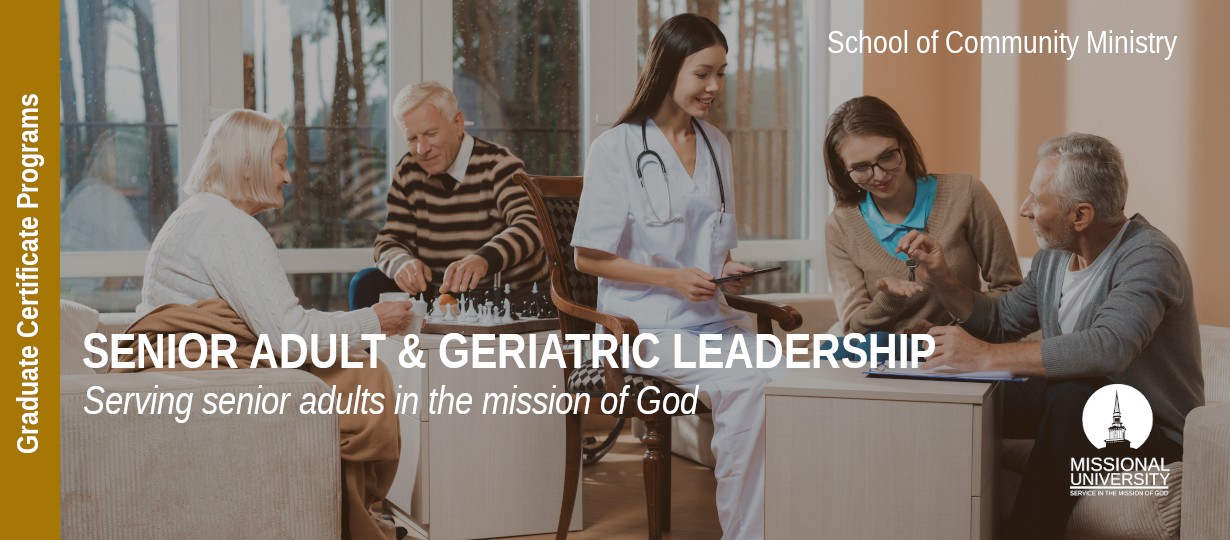 Online Graduate Certificate in
Senior Adult & Geriatric Care Leadership

⚜   Rarely Offered in Christian Universities, Bible Colleges or Seminaries
Expand Your Missional Service Today!
REQUEST INFORMATION
Ready to learn more about the
Graduate Certificate in
Senior Adult & Geriatric Care Leadership?
The Graduate Certificate in Senior Adult & Geriatric Care Leadership offers community ministry practitioners, community health educators, congregational and faith community nurses, pastoral care providers, senior adult pastors, healthcare missionaries, healthcare chaplains, Christian social workers, and those involved in serving senior adult persons and their families the following capabilities:
ability to address pain and suffering through a biblically-informed perspective
competency in providing support systems to the elderly and their families to maintain and enhance functioning and well-being
ability to develop a conceptual framework for planning, organizing, and delivering services to the elderly
ability to utilize case reports, definitions, and discussions and determine where and how ethics apply to various types of abuse common to the elderly
ability to be effective caregivers to senior adults by understanding the context, culture, faith tradition and levels of health and wellness of individuals and families and nuance spiritual care to aid in physical healing, easing spiritual and physical pain.
ability to provide leadership to long-term care in nursing home management, assisted living service, home health care, hospice, and skilled nursing facilities
Senior Adult Care classifies its levels of care under six different options for senior care services: Independent Living, Assisted Living, Memory Care, Skilled Nursing, Affordable Housing, and Short-Term Care. While each type has its own uniquenesses, each level of care is designed to address the physical, social, and spiritual issues facing senior adults. The Graduate Certificate in Senior Adult & Geriatric Care Leadership provides missional leaders with the background to manage and lead the delivery of senior care services while addressing spiritual issues.
Program Features
Integrated practicums allow you to gain valuable real-world experience

Learn from academic practitioners from around the world

Credits earned in this certificate program can apply to a Missional University Master's degree program
What Will I Study?
We offer the most comprehensive approach to serving among vulnerable persons in the mission of God.
Optional Additional Courses
When Can I Get Started?
We offer multiple start dates each year to give you flexibility in your education, life and work schedules.
A Career in Transforming Communities
Is this Your Mission?

Active Adult and Senior Programming Director, Activities Director for Senior Living, Adult Daily Living Center Coordinator, Art Center Director for Senior Adults, Chaplain, Christian Social Worker, Community Ministry Practitioner, Community Health Educator, Congregational and Faith Community Nurse, Executive Director-Senior Living, Director of Senior Adult Outpatient Program, Director of Senior Community Services, Geriatric Nurse, Geriatric Social Worker, Healthcare Missionary, Healthcare Chaplain, Manager of Pastoral Care, Manager of Pastoral Services, Pastoral Care Provider, Pastor of Pastoral Care, Pastor for Senior Adults, Pastoral Associate for Congregational Care, Pastoral Associate for Congregational Life, Pastoral Care Coordinator, Pastoral Care Director, Pastoral Care Program Coordinator, Pastoral Counselor, Pastoral Member Care Specialist, Pastoral Services Supervisor, Personal Support Specialist, Senior Adult Caregiving Specialist, Senior Adult Community Education Instructor, Senior Adult Program Coordinator, Senior Adult Counselor, Senior Adult Day Assistant Coordinator, Senior Adult Outpatient Program Director, Senior Adult Pastor, Social Services Clinician Geriatric Social Worker
How Much Will it Cost?
We offer tuition based upon country of residence.  According to the Human Development Index, all countries around the world fall into one of four categories:
(Tier 1) - Very High Human Development

(Tier 2) High Human Development

(Tier 3) Medium Human Development

(Tier 4) Low Human Development
Our tiered global tuition makes higher education affordable for everyone world wide.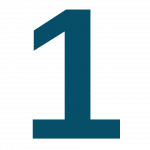 TIER COUNTRIES
100% Tuition
$395
per credit hour
3 credit course
$1185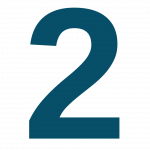 TIER COUNTRIES
80% Tuition
$316
per credit hour
3 credit course
$948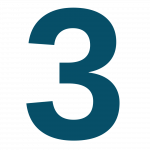 TIER COUNTRIES
60% Tuition
$237
per credit hour
3 credit course
$711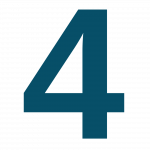 TIER COUNTRIES
40% Tuition
$158
per credit hour
3 credit course
$474