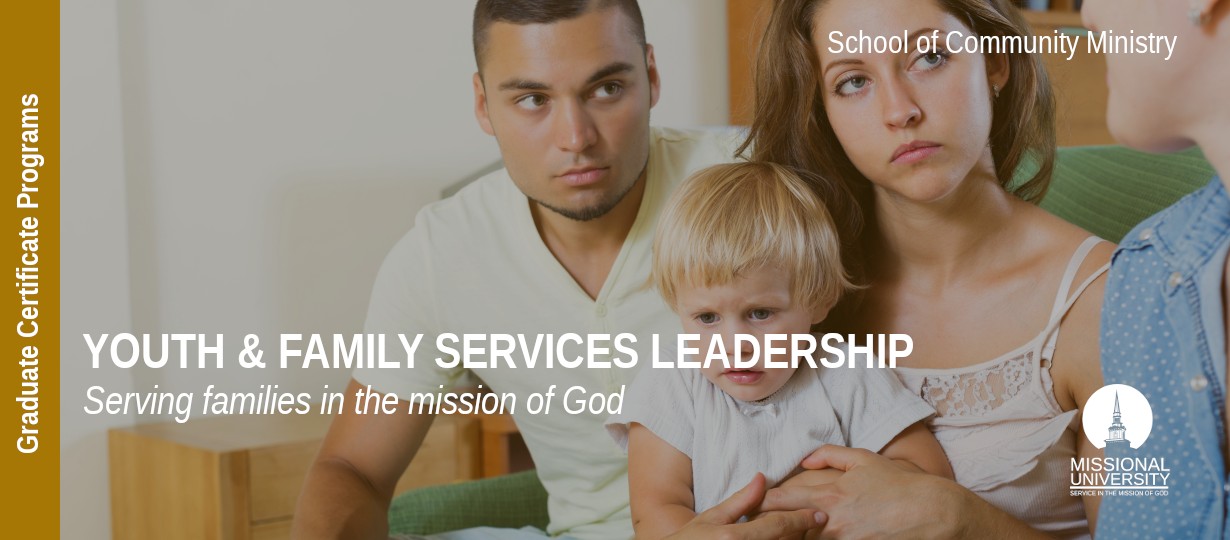 Online Graduate Certificate in
Youth & Family Services Leadership

⚜   Rarely Offered in Christian Universities, Bible Colleges or Seminaries
Expand Your Missional Service Today!
REQUEST INFORMATION
Ready to learn more about the
Graduate Certificate in
Youth & Family Services Leadership?
The Graduate Certificate in Youth & Family Services Leadership offers community ministry practitioners, community ministry pastors, community ministry directors, community ministry missionaries, community ministry chaplains, community services educators, faith community services personnel, family life pastors, Christian social workers, youth pastors, youth workers, and those involved in serving children, youth persons and their families the following capabilities:
ability to develop programs and services to families based on a Trinitarian theological foundation of family
ability to utilize the biological, psychological, sociological, and spiritual aspects of human needs, strengths, and experience when engaging, assessing, planning, intervening and evaluating service delivery in the range of social systems in which individuals live: families, groups, organizations, and communities.
ability to assess families based on an integrated understanding of individuals, couples, and families within their cultural context and family system
abliity to address psychological, sociological and biosocial theories and perspectives related to stress and coping and determine the risk, protective and resiliency factors that facilitates recovery
competency in the roles and skills of the human services professional who develops services to address the vulnerabilities and needs of children, youth, families and communities to minimize personal and societal strain
competency in personal and relational skills when dealing with cultural diversity in the daily life and beliefs in families with young children
competency in analyzing present day issues of risk in the lives of youth and at risk youth from a God centered perspective while using various frameworks to develop interventions appropriate to the risk issue
Youth and family services organizations develop and operate a broad continuum of treatment programs for children, adolescents and adults with behavioral health, emotional and physical challenges. Most of these are nonprofits or NGOs - some of which were started by churches, church groups or by Christian individuals. They create programs to develop healthy bodies, inquiring minds, wholesome relationships, compassionate hearts, creative spirits, the conviction to stand up for themselves and others, and the courage to build a better society. The Graduate Certificate in Youth & Family Services Leadership equips students to serve families by developing human services competencies that lead to the personal and relational skills necessary to analyze risk to children, adolescents and families and to plan intervention programs and treatments to relieve stress and facilitate recovery. Students are taught to approach their role from a God-centered prespective, joining the mission of God in the lives of those in the community.
Program Features
Integrated practicums allow you to gain valuable real-world experience

Learn from academic practitioners from around the world

Credits earned in this certificate program can apply to a Missional University Master's degree program
What Will I Study?
We offer the most comprehensive approach to serving among vulnerable persons in the mission of God.
When Can I Get Started?
We offer multiple start dates each year to give you flexibility in your education, life and work schedules.
A Career in Transforming Communities
Is this Your Mission?

Afterschool Program Director, Case Manager, Case Manager/Family Consultant, Child and Family Specialist, Child and Family Services Caseworker, Children and Family Services Manager, Community Case Manager, Counseling Services Supervisor, Direct Care Counselor, Director for Child and Family Services, Director of Family Care, Director Of Family Education, Director of Family Programs, Director of Family Services, Assistant Director of Family Services, Education and Prevention Counselor, Family Advocate, Family and Community Advocate, Family & Community Engagement Manager, Family Care Manager, Family Consultant/Case Manager, Family Community Partnerships Coordinator, Family Engagement Advocate, Family Partnership Coordinator, Family Partnership Specialist, Family Search and Engagement Specialist, Family Services Caseworker, Family Services Case Manager, Family Services Coordinator, Family Services Manager, Family Services Navigator, Family Services Specialist, Family Services Supervisor, Family Services Targeted Case Manager, Family Services Worker, Family Support Manager, Family Support Specialist, Family Support Worker, Health and Family Services Manager, Homeless Family Engagement Specialist, Manager Family Services, Manager of Family Services, Parent, Family & Community Engagement Coordinator, Program Director-Child, Youth, and Family Services; Residential Counselor, Student Life Counselor, Supervisor of Child and Family Services, Youth Advocate, Youth and Community Engagement Coordinator, Youth and Family Counselor, Youth and Family Services Coordinator, Youth and Family Services Director, Youth and Family Services Manager, Youth and Family Services Staff Coordinator, Youth Care Team Leader, Youth Care Worker, Youth Counselor, Youth Development Navigator, Youth Development Specialist, Youth Development Team Leader, Youth Development Technician, Youth Development Ops Leader, Youth Night Counselor, Youth Prevention/Aftercare Coordinator, Youth Resident Instructor, Youth Treatment Specialist
How Much Will it Cost?
We offer tuition based upon country of residence.  According to the Human Development Index, all countries around the world fall into one of four categories:
(Tier 1) - Very High Human Development

(Tier 2) High Human Development

(Tier 3) Medium Human Development

(Tier 4) Low Human Development
Our tiered global tuition makes higher education affordable for everyone world wide.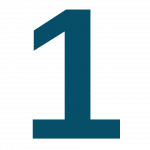 TIER COUNTRIES
100% Tuition
$395
per credit hour
3 credit course
$1185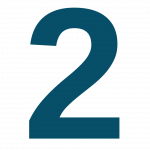 TIER COUNTRIES
80% Tuition
$316
per credit hour
3 credit course
$948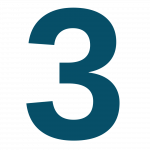 TIER COUNTRIES
60% Tuition
$237
per credit hour
3 credit course
$711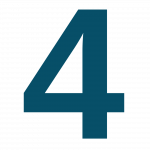 TIER COUNTRIES
40% Tuition
$158
per credit hour
3 credit course
$474