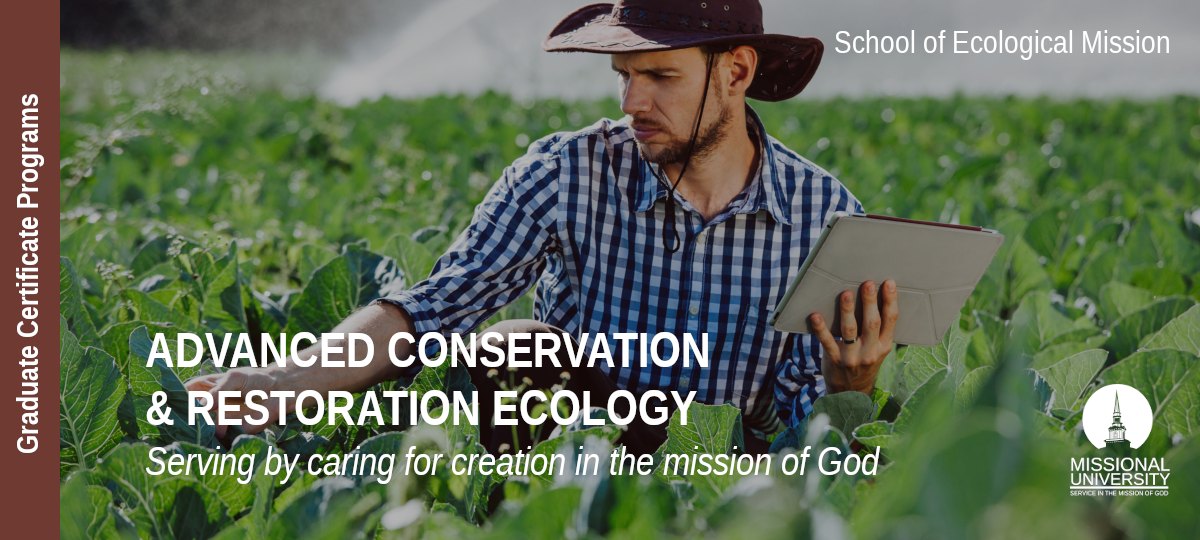 Online Graduate Certificate in
Advanced Conservation & Restoration Ecology

⚜   Rarely Offered in Christian Universities, Bible Colleges or Seminaries
Expand Your Missional Service Today!
REQUEST INFORMATION
Ready to learn more about the
Graduate Certificate in
Advanced Conservation & Restoration Ecology?
The Graduate Certificate in Advanced Conservation & Restoration Ecology
Program Features
Integrated practicums allow you to gain valuable real-world experience

Learn from academic practitioners from around the world

Credits earned in this certificate program can apply to a Missional University Master's degree program
What Will I Study?
We offer the most comprehensive approach to studying the Bible & the environment in the mission of God.
The Missio Dei is the work of God in the world. In this course, students will develop a theological framework for understanding God and his work in the world through an ecological perspective, demonstrating an understanding of the divine purpose for creation.
This course explores the movement, distribution, and quality of water on Earth and other planets, including the water cycle, water resources and environmental watershed sustainability. Hydrology subdivides into surface water hydrology, groundwater hydrology (hydrogeology), and marine hydrology. Domains of hydrology include hydrometeorology, surface hydrology, hydrogeology, drainage-basin management and water quality, where water plays the central role.
Earth's biodiversity with the aim of protecting species, their habitats, and ecosystems from excessive rates of extinction and the erosion of biotic interactions. It is an interdisciplinary subject drawing on natural and social sciences, and the practice of natural resource management.
Improving relationships between ecological processes in the environment and particular ecosystems. This is done within a variety of landscape scales, development spatial patterns, and organizational levels of research and policy.Spacial manmade design with natural implications.
This course will take a historical approach to make known how the theories of ecological sustainability and resilience have evolved over time; and clarifying the different concepts of sustainability and resilience while emphasizing on their relevance for ecosystem and human wellbeing.
Restoration ecology is a separate field in ecology supporting the practice of ecological restoration, which is the practice of renewing and restoring degraded, damaged, or destroyed ecosystems and habitats in the environment by active human intervention and action. Restoration may also be from natural disasters such as fire, mudslides, invasive weeds or translocations of nonendemic species.
When Can I Get Started?
We offer multiple start dates each year to give you flexibility in your education, life and work schedules.
A Career in Caring for Creation
Is this Your Mission?

Agricultural Consultant, Agricultural Managers, Agricultural Worker, Agronomy/Grain Operator, Conservation Biologist, Conservation Project Manager, Conservation Technician, Conservation Worker, Crop Farmer, Environmental Project Manager, Farmer, Farm and Ranch Managers, Farm Educator, Farm Manager, Farm Market Manager, Farm Operations Manager, Grain Farmer, Lead Wildlife and Farm Manager, Nursery and Greenhouse Managers, Nursery Worker, Organic Farmer, Rancher, Rangeland Management Specialist, Sales Agronomist, Soil Conservation Technician, Sustainable Food System Representative, Sustainability Consultant, Technical Sales Agronomist
How Much Will it Cost?
We offer tuition based upon country of residence.  According to the Human Development Index, all countries around the world fall into one of four categories:
(Tier 1) - Very High Human Development

(Tier 2) High Human Development

(Tier 3) Medium Human Development

(Tier 4) Low Human Development
Our tiered global tuition makes higher education affordable for everyone world wide.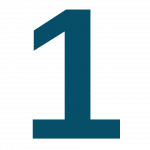 TIER COUNTRIES
100% Tuition
$395
per credit hour
3 credit course
$1185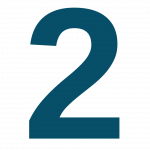 TIER COUNTRIES
80% Tuition
$316
per credit hour
3 credit course
$948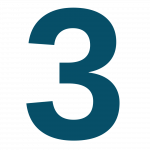 TIER COUNTRIES
60% Tuition
$237
per credit hour
3 credit course
$711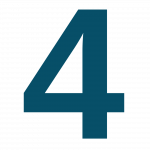 TIER COUNTRIES
40% Tuition
$158
per credit hour
3 credit course
$474