IS THIS YOUR MISSION?
Actor, Audio-Visual Technician, Background Artist, Broadcast journalist, Casting Director, Character Animator, Character FX Artist, Character Modeler, Character Rigging, Chief Information Officer, Chief Information Security Officer, Chief Technology Officer, Cinematographer, Communication Specialist, Composer, Compositor, Computer user support specialist, Database administrator, Digital Compositor, Digital copywriter, Documentary Filmmaker, Editorial assistant, Environmental Modeler, Film Animator, Film Critic, Film Director, Film Distribution Coordinator, Film Editor, Graphic designer, Indigenous Songwriting Educator, Information officer, Information Security Analyst, Interactive Designer, IT Project Manager, IT Security Manager, Journalist, Layout Designer, Media planner, Modeler / Digital Modeler, Motion Capture Technical Director, Motion Graphic Designer, Multimedia specialist, Network systems administrator, Online video producer, Online writer/editor, Photojournalist, Producer, Production Artist, Production Coordinator, Publicist, Re-Recording Mixer, Rigger, Screenwriter, Script Supervisor, Security Administrator, Security Analyst, Security Consultant, Simulations FX Technical Director, Social Media Manager, Songwriter, Sound Designer, Story Editor, Storyboard / Concept Artist, Surfacing & Lighting Technician, Technical Director, Television Director, Theatre Director, VFX Supervisor, Video Editor, Video Game Design, Visual Effects Editor, Web Designer, Web Production Specialist, Worship Leader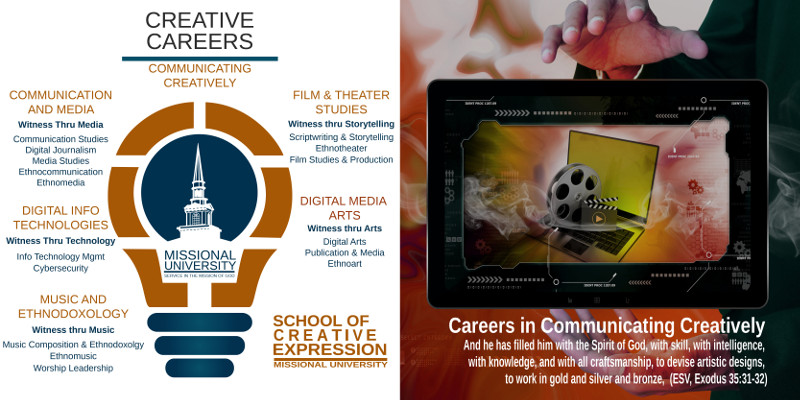 LEARN HOW TO COMMUNICATE CREATIVELY
AT THE SCHOOL OF CREATIVE EXPRESSION
The School of Creative Expression enables Christian believers to communicate a gospel witness in various forms, media and styles to bring glory to God through service in the mission of God.  The programs in the School of Creative Expression equip missional leaders in foundational courses in a theology of beauty, storytelling, or media and communication and then adds practical courses in communication, media arts, music arts, theatre arts, information technology management and worship studies. Whether you need to learn how to use social media, multimedia, visual communications, graphic design, digital journalism or information technologies – Missional University will give you the tools to serve in secular and faith-based organizations as a Christian witness.  Through music arts, you can be equipped in songwriting, ethnomusicology, and in leading worship.  Through digital arts, you can be equipped in studio art, graphic design, 2D animation, 3D animation, animation visual effects, publication and print media. Creativity in the arts are extended through storytelling, theatre arts, and film studies and production.
The School of Creative Expression has programs that lead to Certificates in Communication Studies, an Associate of Communication Studies, a Bachelor of Communication Studies (completion degree), a Graduate Certificate in Communication Studies, and a Master of Communication Studies.  Communication studies at Missional University equip Christian believers to serve in the mission of God through using various communication media.  The School of Creative Expression also provides certificate, Associate and Bachelor completion programs in Worship Studies.