DEPARTMENT OF MISSION STUDIES
Explore Mission Studies
Academic Programs
Masters Degrees
Doctoral Degrees
Course Descriptions
Undergraduate Courses
Graduate Courses
Resources
Contact
Calendar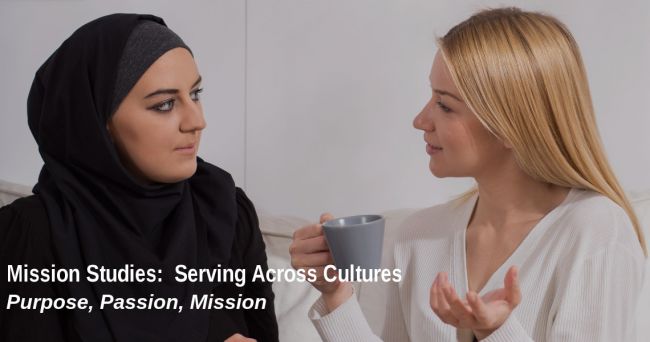 Welcome
The Department of Mission Studies prepares students with a biblical understanding of the great commission and equips them to apply biblical truth in their lives and service in intercultural settings.
Why Mission Studies?
One of the most important and exciting tasks of the missional Christian until Christ returns is that of discovering new ways to share the gospel in home and host cultures among a wide variety of people groups and languages. Mission Studies prepares students with a biblical understanding of making disciples in a variety of cultures. It also develops intercultural skills to explore new and innovative ways for making disciples that make disciples. Students gain a foundation in intercultural communication to engage internationals and open doors for missional and career opportunities.
Why Missional University?
Mission Studies at Missional University are based on the six core values of the University:
Biblically Based:
Mission Studies is biblically founded and Christ commanded. (Matthew 28) We see over and over again in the New Testament that we are to not only preach the gospel (Mark 16) but that it will be presented and accepted in all nations. (Luke 24).
Missionally Driven:
Knowledge of diverse nature of population movements together with intercultural skills in engaging internationals, immigrants and refugees opens doors for missional and career opportunities.
Interculturally Focused:
Today's Mission Studies no longer focuses on one primary sending country but on all nations sending disciplemakers to all people groups. Because it is a biblical command to make disciples among all nations, we must prepare for ministry among all nations. Ministry starts from a home or primary culture and then engages a host culture. We will focus on teaching principles of intercultural communication and cross-cultural evangelism as we survey modern cultural worldviews in order to share the gospel.
Contextually Informed:
Cross-cultural ministry requires discovering the various aspects of a given culture and learning the best ways to share the gospel in that given cultural context. We strive to help student accomplish this with each course. Students will have opportunities to adapt assignments to meet mission needs in his or her current ministry setting.
Practically Minded:
Mission Studies assists students to use skills and passions for reaching the nations. Techniques, methods and strategies that are used by missionaries everyday will prepare students for mission service from the smallest village to the largest urban center.
Experientially Transformed:
Experience is one of life's best teachers. Students of Mission Studies will have the opportunity to learn not only from case studies and interviews of missionaries, but also from assignments that will give them first time experiences in sharing the gospel with those who hold a variety of different world views.