DEPARTMENT OF MISSION STUDIES
Explore Mission Studies
Undergraduate Studies Program Plan Summaries
Pre-Mission Studies Academy
Undergraduate Certificates
Associate of Intercultural Studies
Bachelor of Intercultural Studies
Graduate Studies Program Plan Summaries
Master of Intercultural Studies

Missional Evangelism
Mission Studies in Global Cultures
Course Descriptions
Undergraduate Programs
Graduate Programs
Resources
Diaspora Studies Resources
University Resources
News and Calendar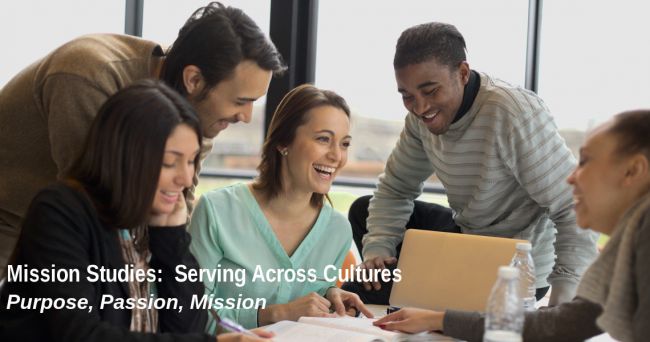 About the Department
The Department of Mission Studies combines an understanding of the great commission and effective techniques for living and serving in an intercultural setting for students to meet, befriend, and grow in their relationships with friends of different religious traditions, ethnicities, political views, and cultural practices. The courses lead the student to a comprehensive understanding of cultural competency and social sensitivity. Faculty teach how to launch and lead an effective faith-based initiative among various cultural groups out of the depths of their academic training and extensive personal experience.
Areas of Study
The Department of Mission Studies offers undergraduate and graduate degrees in a variety of areas including: 
Missional evangelism: prepare to use skills and passions for sharing the gospel with those in another religion, tradition or culture.
Mission studies: prepare to live and serve successfully and effectively in a cross-cultural context
Learning Outcomes
Students who successfully complete the programs in the Department of Mission Studies are able to do the following:
Demonstrate an awareness of the biblical command for making disciples of all nations.
Articulate the various forms of mission strategy found in the Bible.
Demonstrate the ability to contextualize the message of the gospel in a particular ministry setting or religion.
Demonstrate an understanding of evangelism methods and strategies for unengaged and underserved people groups.
Demonstrate the ability to adapt to a new host culture and to identify near cultural characteristics in order to share the gospel.
Articulate a plan on how to maintain a strong spiritual walk on the field.
Demonstrate an understanding of ministering on a team in order to accomplish ministry plans.