DEPARTMENT OF DIASPORA STUDIES
Explore Diaspora Studies
Academic Programs
Masters Degrees
Doctoral Degrees
Course Descriptions
Undergraduate Courses
Graduate Courses
Resources
Contact
Calendar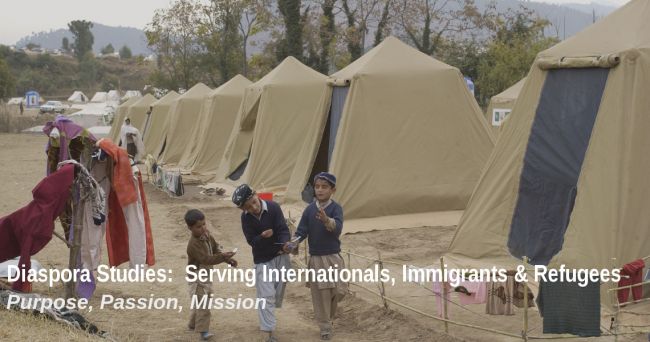 About the Department
The Department of Diaspora Studies combines an understanding of missions, immigration law, migration studies and specialized services to prepare graduates to meet the real needs of immigrants, refugees, and internationals.
The courses lead the student to a comprehensive view of the immigrant and refugee experience.
Faculty teach how to launch and lead an effective faith-based initiative among internationals out of the depths of their academic training and extensive personal experience.
Areas of Study
The Department of Diaspora Studies offers undergraduate and graduate degrees in a variety of areas within diaspora studies including: 
Diaspora Studies: prepare to serve among internationals, immigrants, and refugees.
Immigration Legal Services:  prepare to be credentialed by the Office of Legal Access Programs (part of the U.S. Department of Justice) to process immigration documents and represent non-citizens on behalf of internationals, immigrants, and refugees.
Interpreting Services: for bilingual students, prepare to be credentialed to interpret in legal and medical settings on behalf of internationals, immigrants, and refugees.
TESOL / TEFL & Linguistic Studies:  prepare to Teach English as a Second Language (TESOL) among immigrants or to live abroad and Teach English as a Foreign Language (TEFL).
Learning Outcomes
Students who successfully complete the programs in the Department of Diaspora Studies are able to do the following:
Articulate a biblical perspective of internationals, immigrants, and refugees.
Demonstrate a basic knowledge of the methods, theories, and concepts of incarnational, missional approaches to serve the needs of transnational population movements.
Demonstrate an understanding of the forms, causes, and consequences of transnational population movements and how to engage diverse populations interculturally.
Demonstrate skill in the use of demographics and social science research in developing contextually-informed and culturally appropriate practices and strategies.
Demonstrate the ability to apply their knowledge in the service of migrant peoples from diverse socio-economic and cultural backgrounds.
Articulate how their faith integrates with their approach to service among diasporic population groups through various approaches including immigration legal services, interpreting services or teaching English.