Competency-Based Education at Missional University
Competency-based education seeks to enable students to demonstrate that they have learned the knowledge and skills and have developed the attitudes and attributes that they are expected to learn as they progress through the educational process. Competency-based educators design systems of instruction, assessment, grading and academic reporting that are designed to demonstrate that students have achieved the competencies for which the educational system has been designed.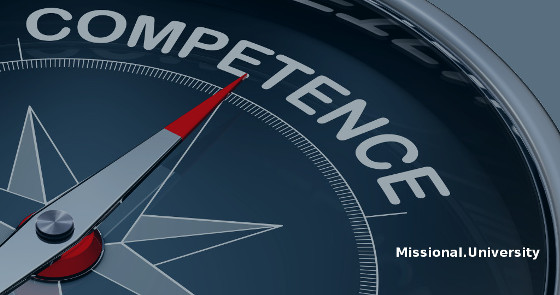 Values & Competencies
Missional Competency Framework
Missional University has created a set of core competencies across our six core values that instills within graduates measurable values, knowledge, skills, abilities, attitudes and attributes that prepares them to combine outstanding professional roles with their missional service. Upon graduation, competent Missional University graduates integrates their purpose, passion and mission with their personal, spiritual and vocational life expressed in service in the mission of God to which they have been called.
Missional University has adopted this approach to ensure students gain the professional competencies needed to serve in culturally-pluralistic, global environments. Faculty tie every course to all six core value outcomes and to appropriate competencies within those value domains. The student masters the 33 core competencies as they progress through their coursework and degree program. Schools and departmental faculty may elect to add additional values and competencies related to specific degree programs as needed. As a result of the educational process students are equipped to serve professionally in the mission of God in the world.
Missional University Competency
Competent missional graduates articulate and use biblical principles and perspectives to inform and direct missional living and practice in personal, vocational and community settings.
Biblically-Based Competencies
Relates a Biblical View of the Mission of God that Informs Missional Practice
Justifies Application of the Cultural Mandate, Diversity and Creativity in Missional Practice
Combines a Trinitarian View of Personhood in Missional Service
Develops a Theological Understanding of Redemption and Reconciliation as It Relates to Others and Society
Develops a Theology of Biblical Stewardship in Relation to Earth and Creation
Competent missional graduates understand the missio dei (mission of God), desire to join God in His redemptive mission in the world, and seek practical ways to live out that mission in personal and community life as a missional lifestyle.
Missionally-Driven Competencies
Affirms the Missio Dei as the Missional Calling of Every Christian Believer
Incorporates the Missio Dei as a Personal Lifestyle
Integrates Spiritual Disciplines & Practices with Missional Living
Develops a Missional Lifestyle into Ongoing Missional Practice
Develops Missional Leadership Skills as a Lifelong Learner
Value #3: Contextually-Informed
Competent missional graduates follow the teachings of Jesus by living incarnationally in their communities with a clear understanding of the sociocultural environment in order to build relational bridges across cultural difference.
Contextually-Informed Competencies
Displays Biblical Perspectives of Incarnational Living
Identifies Diverse Sociocultural & Physical Environments
Acquires Cultural Knowledge
Discerns the Values, Worldviews & Belief Systems of Others
Estimates Cultural Distances between Sociocultural Groups
Value #4: Interculturally-Focused
Competent missional graduates acknowledge the influence of ethnocentrism, build mutual understanding, nurture interpersonal relationships and cultural sensitivity, and develop personal qualities and dispositions that promote intercultural professionalism in vocational and missional settings.
Interculturally-Focused Competencies
Embraces Biblical Perspectives of Intercultural Diversity
Evaluates the Sources and Impact of Ethnocentrism on the Mission of God
Demonstrates Intercultural Communication Skills
Develops and Sustains Intercultural Relationships
Develops Intercultural Qualities
Competent missional graduates function professionally, ethically, and missionally by applying critical thinking skills; communicating effectively with diverse audiences; advocating for biblical equality, justice and righteousness; informing practice with research, and advancing the redemptive and reconciling mission of God in the world.
Practically-Minded Competencies
Identifies as a Professional
Applies Biblical & Ethical Principles to Guide Practice
Applies Critical Thinking with Writing, Media, Music and/or Mapping Skills to Inform & Communicate
Applies Knowledge of Diversity and Difference
Advances Justice & Righteousness
Engages in Research-informed Practice
Engages Individuals, Families, Groups, Organizations & Communities in Practice
Value #6: Experientially-Transformed
Competent missional graduates demonstrate an expanding level of professionalism in their academic field represented by an ensemble of appropriate skills, knowledge, qualities and attitudes that also furthers the mission of God in the world.
Experientially-Transformed Competencies
Exhibits Professional Curiosity
Demonstrates Comprehensive Knowledgeability
Accepts Personal Responsibility
Balances Organized Spontaneity
Exercises Reflective Learning
Exhibits Open-minded Consideration
The Missional Competency Framework is © Copyright 2017 by Missional University.