DEPARTMENT OF PASTORAL CARE & CHAPLAINCY
Explore Pastoral Care & Chaplaincy
Academic Programs
Masters Degrees
Doctoral Degrees
Course Descriptions
Undergraduate Courses
Graduate Courses
Resources
Contact
Calendar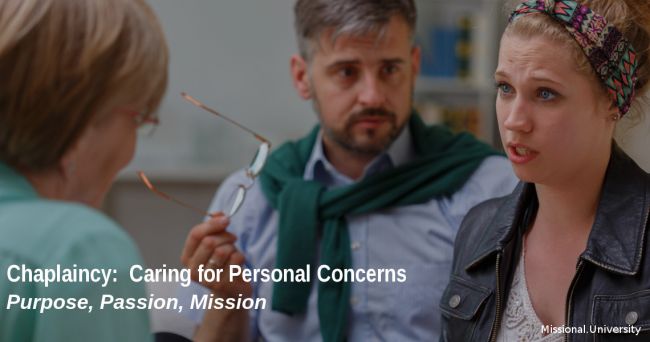 Welcome
The Department of Pastoral Care and Chaplaincy will introduce students to the theory, practice, and ethics of pastoral care and counseling, including cross-cultural settings. The Department will also assist students to investigate the various forms of chaplaincy ministry. The biblical foundations for pastoral care and the ethics of chaplaincy will be integrated throughout the courses taught by the department. Students will be equipped to provide pastoral care in healthcare, military, correctional, disaster relief, first responder, and sports settings.
Why Pastoral Care & Chaplaincy?
People are important to God, and so they, by definition, are important to persons who participate in the mission of God. Chaplains and pastoral care providers must be educated and trained so that they can effectively express the love and care of God to people.
Why Missional University?
Pastoral Care & Chaplaincy at Missional University are based on six core values:
Biblically Based:
The mandate to spiritually and practically care for others in Jesus' name is integral to participation in the mission of God. The Bible is replete with admonitions to care for others in the name of God. The Department of Pastoral Care and Chaplaincy assists chaplains and pastoral care providers to do just that.
Missionally Driven: 
Pastoral care is people-focused, therefore it is practiced wherever people may be found: in hospitals, hospice care centers, military settings, correctional institutions, disaster & crises situations, with first responders and with sports teams. This discipline may also be practiced with believers and non-believers as an expression of the love and care of God for those whom He created.
Interculturally Focused:
The world is multicultural; therefore, those who provide pastoral care must be capable of doing so in a culturally appropriate manner. Since this is not a skill that comes naturally to most people, chaplains and pastoral care providers must develop cross-cultural skills to avoid offence and to be maximally effective as providers of pastoral care.
Contextually Informed:
The practice of pastoral care can vary greatly depending on the context in which it provided. The settings and cultures of churches, prisons, hospitals, and military chapels all vary greatly. Chaplains and pastoral care providers must understand the context in which pastoral care is given and use appropriate technique.
Practically Minded:
Pastoral care takes place in the real world, with real people who have real troubles and triumphs. Chaplains and pastoral care providers must possess the practical skills and techniques to assist those who are dealing with the reality of life in a broken and dying world.
Experientially Transformed:
Effective pastoral care requires the application of skills and techniques which the student must exercise and practice. Merely learning the biblical, theological, spiritual, and psychological underpinnings of pastoral care is necessary, but insufficient. Students must practice the skills and techniques that they have learned before they can become effective caregivers.