DEPARTMENT OF EPIDEMIOLOGY & INFECTIOUS DISEASE
Explore Epidemiology & infectious Disease
Undergraduate Studies
Undergraduate Certificates

Epidemiology & Health Surveillance
Epidemiology & Infectious Disease
Bachelor of Global Health
Graduate Studies
Epidemiology in Global Healthcare
Infectious Diseases in Global Healthcare

Epidemiology in Global Cultures
Master of Divinity / Master of Global Health
Resources
Resources
University Resources
News and Calendar
Course Descriptions
Contact Information
Still Have Questions?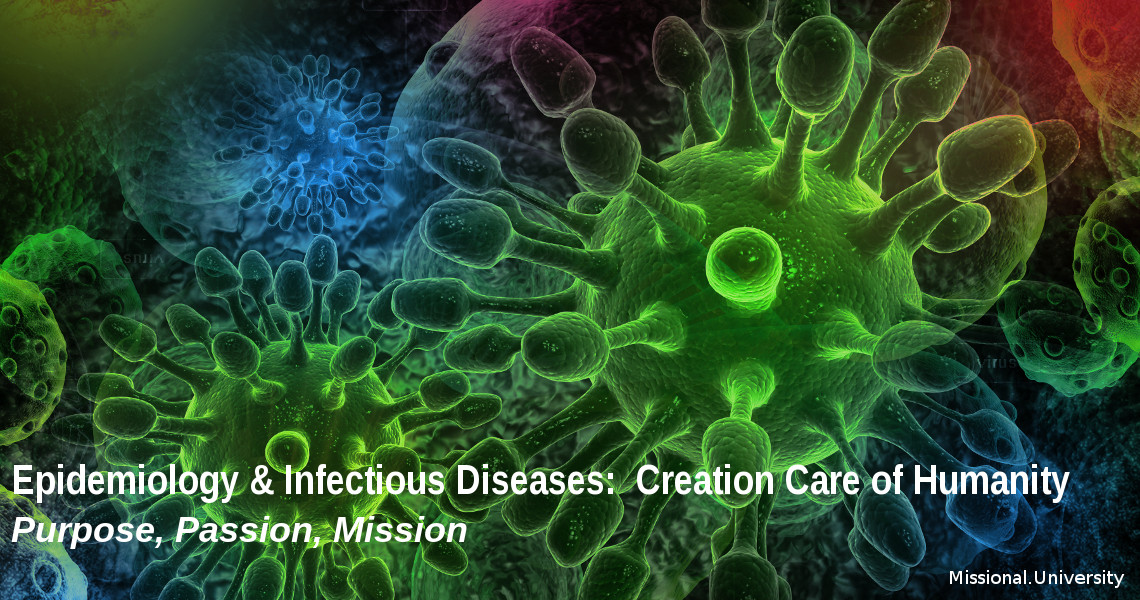 About the Department
The Department of Epidemiology and Infectious Disease takes the student from the biblical and missional foundations to studying methodologies for conducting surveillance of the occurrence of diseases and other health conditions, and the various types of infectious diseases. Coursework provides a broad understanding of diseases caused by viral and bacterial infections, together with strategies for their control and treatment.
Through study of epidemiology you will learn how to describe the size and nature of health problems, investigate the causes of specific diseases, and evaluate the impact of various approaches to treating and preventing diseases. Through the study of infectious and tropical diseases you will gain an understanding of the biology of viral and bacterial infections and the symptoms of the diseases, and conditions that facilitate its spread.
Areas of Study
The Department of Epidemiology and Infectious Disease offers students a variety of courses in both areas, including:
Epidemiology:  Courses introduce students to epidemiology and the control of infectious disease, the epidemiology of communicable, non-communicable diseases and cancer; fundamentals of public health surveillance, methods in field epidemiology, and writing and reviewing epidemiological papers and biostatistics.
Infectious Disease:  Courses include bacterial and viral infections, parasitology, issues in water, sanitation and hygiene; immunology of infectious disease and vaccines, nutrition and infection, and various types of infections such as HIV/AIDS, tuberculosis and malaria.
Learning Outcomes
Students who complete the Bachelor of Ecological Mission in Global Health & Epidemiology will be able to:
Articulate a theological foundation for epidemiology and healthcare studies
Investigate epidemiological and infectious disease concepts and scientific principles related to their identification, treatment and spread
Describe biological, physical, and environmental agents that influence the cause and spread of disease
Compare and contrast principles of epidemiology approaches to communicable and non-communicable diseases
Identify epidemiological research approaches in field and lab and illustrate application of appropriate level biostatistical methods.
Investigate the effects of immunology of infection and vaccines in population segments.
Investigate the interrelationships between bacterial infections, viral infections, and parasitology; and water, sanitation, hygiene and nutrition in disease prone populations.
Students who complete the Master of Ecological Mission in Epidemiology & Infectious Disease will be able to:
Demonstrate advanced knowledge and understanding of epidemiological processes and their value
Demonstrate knowledge and understanding of the multi-dimensionality of maintaining or restoring healthy populations
Demonstrate knowledge and understanding of the application of global epidemiological issues in medical mission, responses to disaster & crises, and patient-centered care.
Be able to provide much-needed epidemiological research to improve health and sustainability of disease prone population segments, resulting in more sustainable human environments in diverse global environments.
Be prepared to work with various agencies, including governmental and mission agencies, to initiate and maintain the public health surveillance and reporting that are the backbones of sustainable human communities.
Demonstrate hands-on experience in planning, executing, analyzing, and reporting on a research process that culminates in a project or thesis.